We will discuss the major differences between single density outsoles vs dual density outsoles . We will discuss the pros and cons of each outsole it self.
The information in this post is to inform & educate the consumer, based off feedback from customers who buy work boots from our store. We hope that relaying the information from our customers to new customers may help in purchasing the right work boot for you. The internet is full of consumer opinions justifying any reasoning you are looking for. Most consumers get very confused and spend more time than they need to look at reviews when buying footwear. We know that most aspects of footwear are very subjective customer to customer, for example height, weight, different job, how you walk, surfaces, climate, comfortability, and the list goes on. We aren't here to tell you what boot size or boot you should be wearing for the job, but breaking down the durability of each boot and its characteristics and letting you determine what boot you should wear. We are laying it out, being truthful and honest so you can make the right choice!  
The two most common questions we get when customers are buying boots are, how long will they last and which ones are the most comfortable? If we had the answer to these questions, "the almighty work boot for everyone", we would be millionaires. Every year work boot companies are always trying to come up with what they think is the most comfortable and durable work boot. Unfortunately no one will achieve "the boot" for everyone, it is impossible to have one boot accommodate everyone's needs that would be pretty wild though. For now there is one aspect of boots we can talk about and that being durability. We can show and tell the difference between higher quality materials and lower quality materials that generally have an impact on how boots wear over time. 
On this post we will go over two different densities of soles but look at three different types of soles. We will talk about long wearing, short wearing, and medium wearing outsoles. This is all based off of how hard each sole is, and yes we realize not everyone will experience the same wear pattern.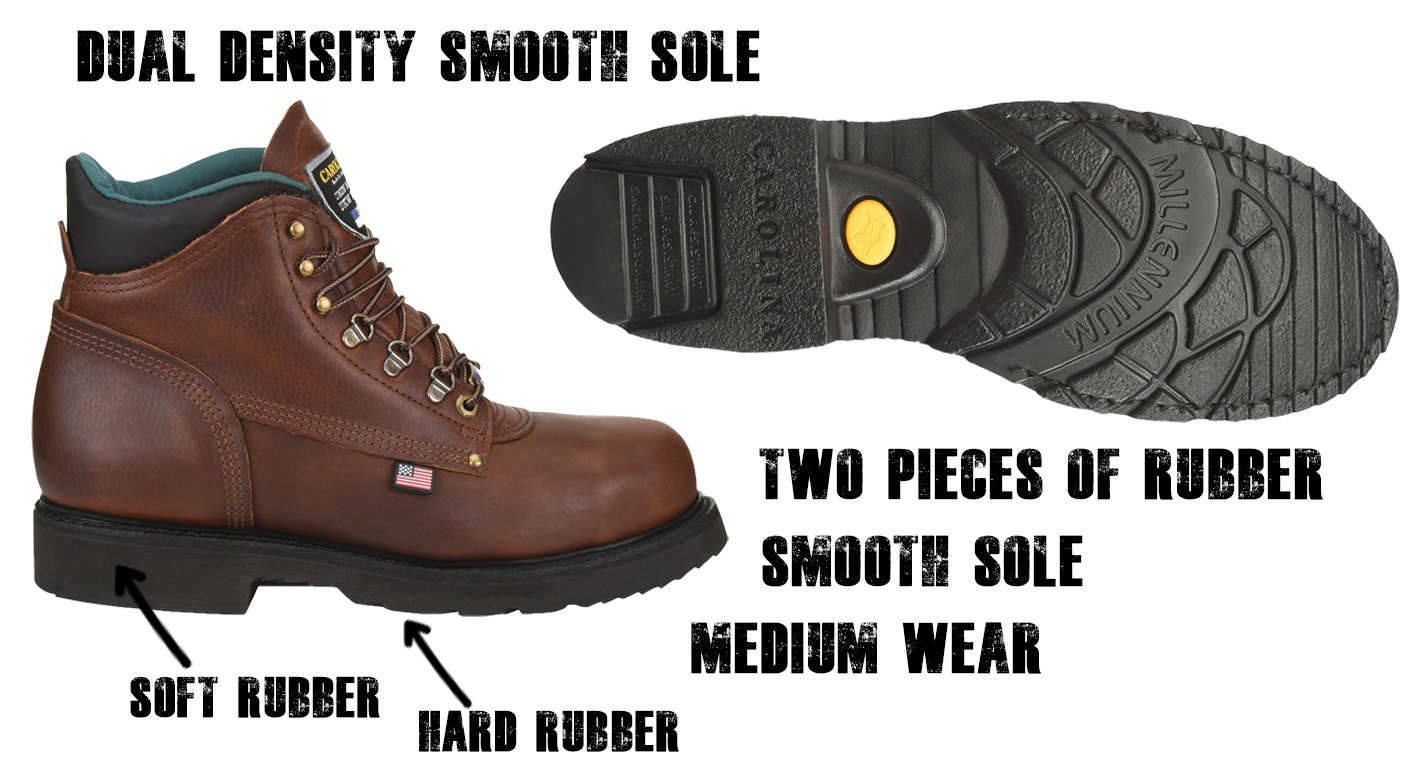 The first sole we will look at is the dual density sole. This sole is composed of two densities of rubber, a soft density closer to your foot for comfort and added shock absorption and a harder density on the ground for longevity. This is for the worker looking to have a happy medium, neither to hard nor to soft. This density of sole gives you the best of both worlds. Based off of our customers who buy this boot in particular, they are mainly shop workers on concrete floors, shop floors, and or anyone who does a lot of walking or standing. This is the guy looking for comfort based off our customers who come in to our store. This boot in particular is the Carolina 309 Sarge lo. The outsole is slip & oil resistant and is smoother so it does not attract dirt or debris. The 309 is our top selling boot.
 Next we have a single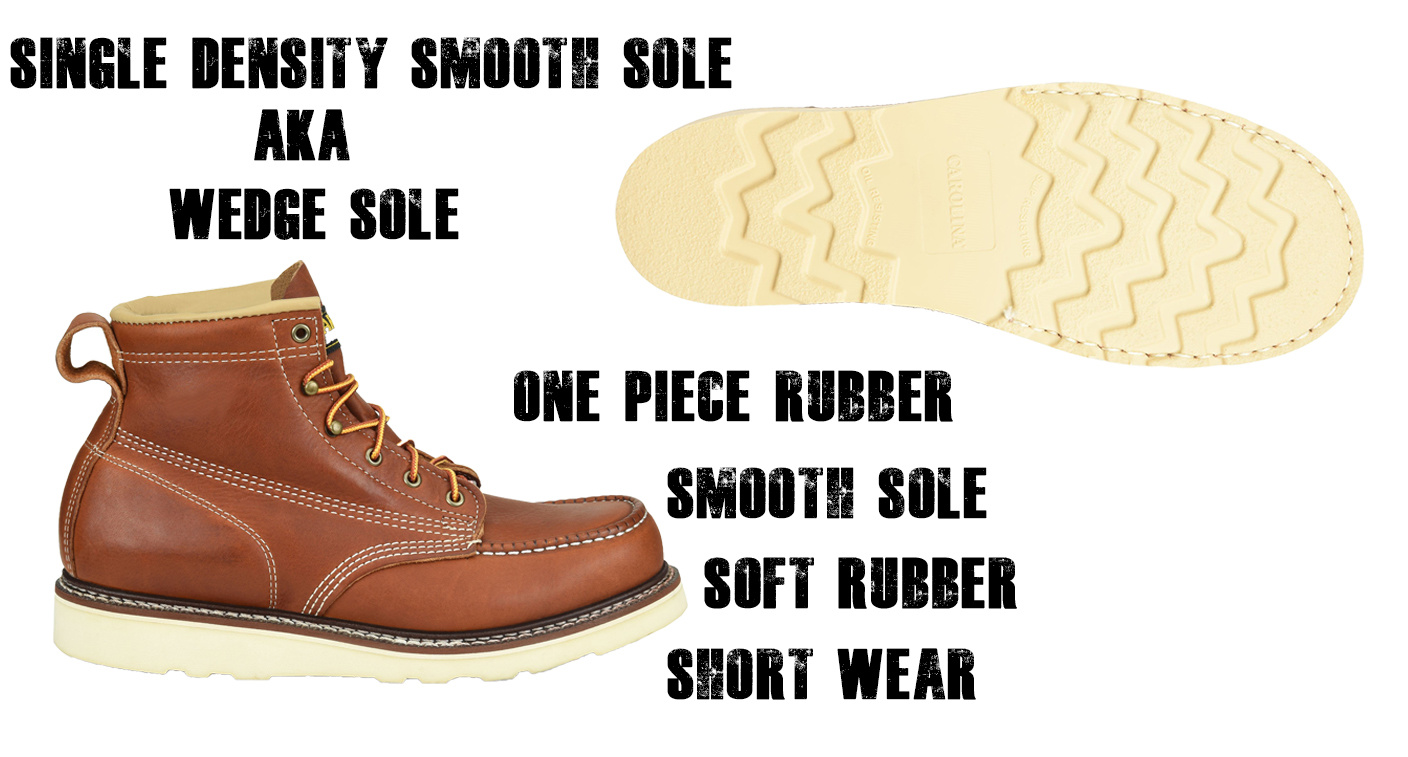 density soft rubber boot also known as a wedge sole boot. Popular brands we carry in this boot are Thorogood, Carolina, Silverado, and Danner. This boot has seemed to be a growing trend among many workers and anyone outside of work for a style boot. This sole is usually if not always associated with a moc toe, the stitching on the toe of the boot. This sole / style of boot originated as a bird hunting boot back in the 50s because of its very shallow lug did not track much in the field. This boot transformed over time into a work boot. Most people like this sole because of how soft it is and how much shock it absorbs while on your feet. Workers like how it tracks zero dirt or debris and still maintains grip being slip & oil resistant. This boot is worn by a large number of workers but we notice most Iron workers and concrete workers wear this boot. Most workers buy this boot specifically because how soft the sole is and usually these boots area a little lighter because of the soft sole. The con to this sole is the longevity, don't get me wrong some guys can get many years out of them but some guys only get 6 months , it all depends on the job. If you are heavier and harder on your soles yes a wedge sole will wear our quicker.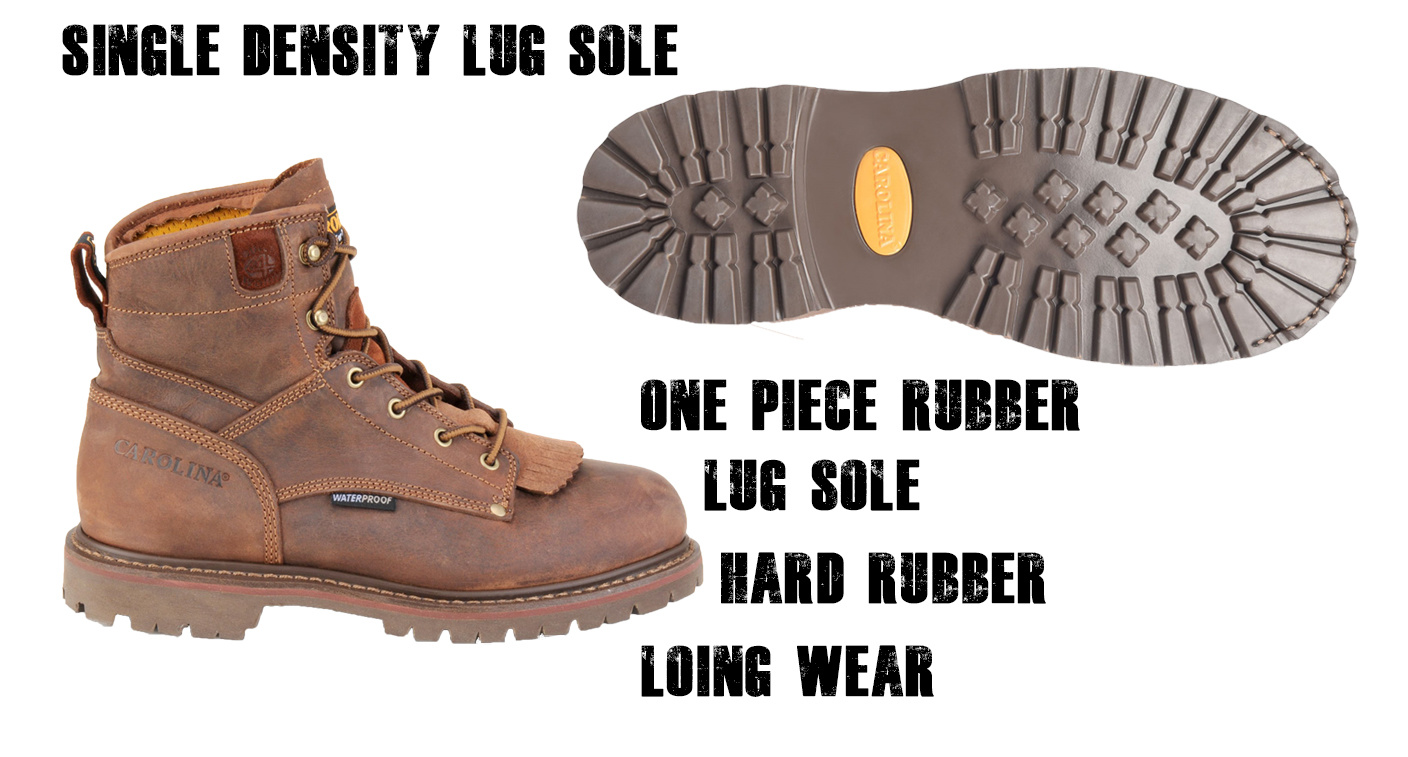 Lastly we have a single density sole but a harder density. This sole is pretty much the opposite of a wedge sole. The density of this rubber is a hard rubber. The sole of this boot in particular has a heel and a lug. We sell this style boot mainly to outdoor workers in the dirt or mud who need extra lug on the sole to grip. Workers who are just looking for a long wearing sole tend to buy these boots because of the hard density giving them longer wear on the sole. The con to these boots is with the lug it will pick up more dirt and debris than usual. This boot featured is the CA7028 28 Series – Soft toe and waterproof.